Website Design In Sunderland Newcastle Durham Stockton. North East
Looking for a NEW Website?
DO YOU NEED HELP ADVERTISING YOUR BUSINESS
At NRG Digital we help business advertise. Either through the traditional means like leaflets or business cards, or throught the more modern methods such as website or e-marketing. We can organise a free initial 1 hour consulation at our St Peters Gate offices. We offer a full design and print service. We can help finance the building of a new website for your business by spreading the cost with easy pay as you go packages to suit all budgets. Starting from £10 per month up to £100 per month. You can spread the time you need to dedicate to giving us the content and ideas for your website whilst also spreading the outlay financially. Trust us, we have been building hundreds of websites this way for the last 12 years and it works very well.
Interested, we can organise a free initial 1 hour consulation at our St Peters Gate offices. Click

DO YOU NEED HELP ADVERTISING YOUR BUSINESS ?
Speak to Us and Benefit from face to face contact! We will meet with you and get to know your business...we do that first before we can start work on your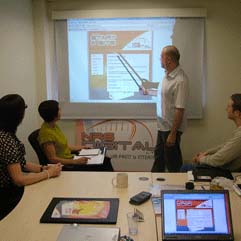 advertising. We are more than just designers. We have many years experience of understanding what works well for many different businesses. Why not contact us for a free no obligation demo of what we do. We can organise a free initial 1 hour consulation at our St Peters Gate offices. Click
It will cost you nothing!
Our new website is launched!
You have come through to our old website If you would like to see our new website click here . But in the meantime feel free to browse our old website there is still plenty you will find interesting on the pages within this website.
Ring us today on 0191 5342003 or Mobile 07889 875 406 Please phone ahead to make an appointment or Click Here

NRG Digital are a web design agency based at St Peters Gate in Sunderland. So if you are looking for Web Design in Sunderland you have come to the right place. Please feel free to browse our website which is currently undergoing re-development. in the meantime if you need a website in Sunderland, Washington, Durham or Newcastle please contact us on 0191 5342003. We can arrange a free one hour consultation to discuss your requirements. We build websites in the North East that come in various easy pay monthly packages.
Cheap Beermats Are A Great Way To Promote Your Business!


When Tony at Century Films asked us if we wanted to advertise on the back of his beermat - we of course said yes. But, we thought.. "What can we put in our advert that will stand out and maybe get a laugh?" more

---
Current Project: April 2013 - 'Rocket Airport Connections' We are currently working on a new website for airport connections specialists Rocket. The guys at Rocket are ahead of the game with a website that allows clients to pay online from each area of Sunderland. And we will also be launching a joint promotion with McDonalds where one lucky couple or family will travel free to and from Newcastle Airport this summer click here for more details on how to enter the free prize draw.
Current Project: April 2013 - 'Homeworx North East' If you are a tradesman (or tradeswoman) and drive a white van(!) you probably need a website to act as an online portfolio of your work. We all do it now before choosing someone to work in our homes, we'll check out their website. An 8 page website on our silver package is ideal to build up over the months and years a showcase for potential customers to view your successfully completed projects click here to see an example of a £25.00 per month website from NRG - remember the site is growing each month with the galleries growing all the time with photos of the guys high quality work being added on a regular basis.

| | |
| --- | --- |
| | Current Project: November 2012 - 'Northern Green Deal Services' Northern Green Deal Services are our friends Jeff and John up at Plumbskills who are branching out to service the anticipated demand for the Governments new Green Deal scheme. The scheme itself seems too good to be true, apparently you can get a brand new boiler for no money! Well, that's probably not quite true in that you have to pay for the new boiler over an extended period of time (up to 30 years). You, the energy supplier and ultimately the Government recoups it's money in the savings made by the more efficient boiler. In theory everybody wins. All a bit ambiguous (like most Governement shemes) at this point in time but if you would like to know more keep an eye on this website. New logo and website plus some SEO work on this one, to meet Bernie the bolier click here for more. |
Current Project: September 2012 - 'SR Transport' SR Transport is typical of the type of website we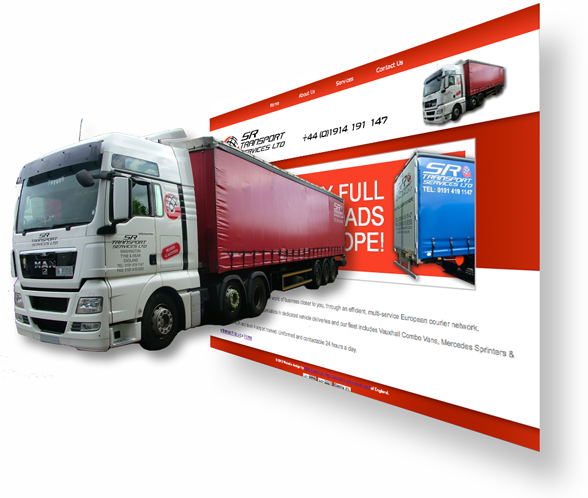 build on a daily basis for small to medium businesses. It also gives you an idea of how we can pop out to your business premises and take photos of your vehicles / stock or whatever and edit them in a program we use called Adobe Photoshop click here for more.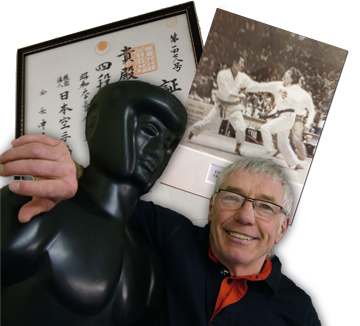 Current Project: March 2011 - 'Self Defence North East' We are currently working on a new website for our long term customer Owen Murray MBE. His new website hopes to attract people of all ages to his new self defence classes to be held at Owens gym at his Riverside Lodge farm 'deep behind enemy lines!' If you (or your children) are looking to build your get fit and learn some really valuable tips to protect yourself check out the new website by clicking here.
---
Current Pr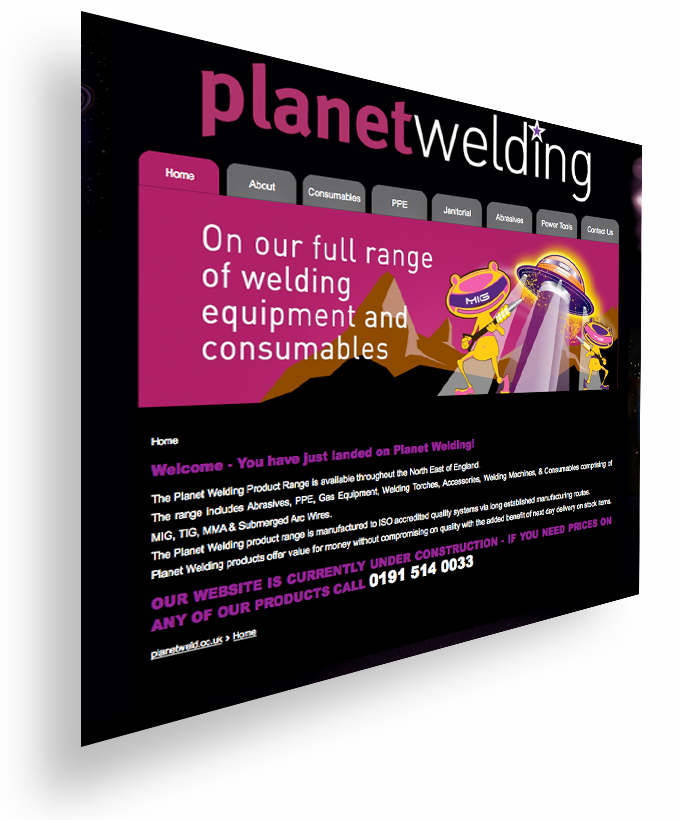 oject: June 2011 - 'Planet Weld Industrial'
We've heard of Planet Of The Apes but never Planet of The Welders! We are particularly fond of 'MIG' and 'TIG' the two aliens we have created for Dean at Planet Weld Industrial Ltd based in Sunderland but supplying welding consumables across the North East.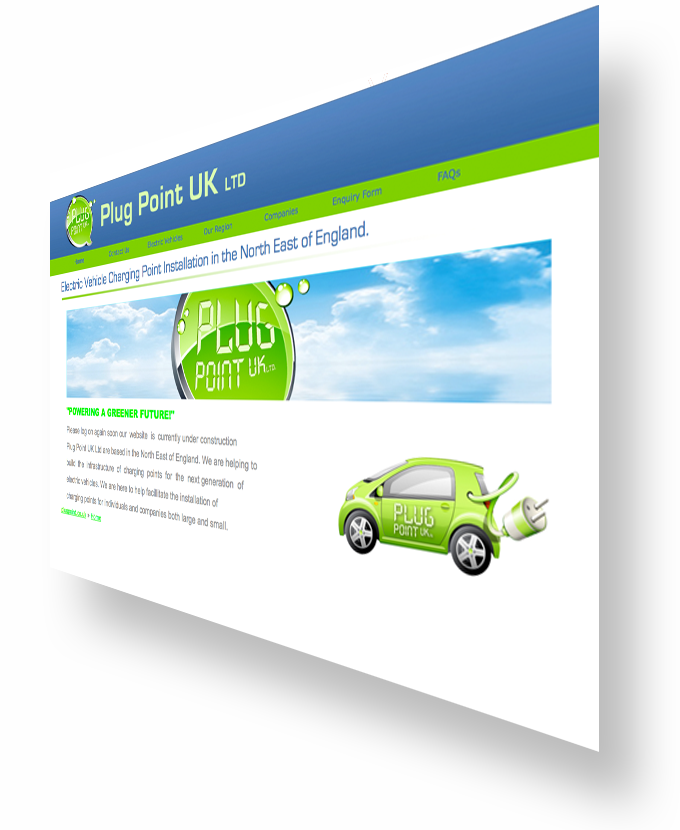 Current Project: December 2011 - 'Plug Point UK' Currently working on an interesting website for Plug Point UK Ltd who are involved in the installation of electric vehicle charging points in the North East of England Plug Point UK initially provides a free site survey, and advise on the best location for your charge point. Plug Point UK also arrange the relevant permissions, organise all the civil work, install the foundations, and arrange the electrical connections.
Current Project: June 2011 - 'CKML PAT Test' By the way if you need PAT Testing in the North East click here.
---
Past Project: January 2011 - 'Century Films' We are currently working on an E- Commerce solution for our client Century Films who specialise in solar film and window film in the North East of England. Click here to view there new site. Century Films are also looking to break into the conservatory film market in the north east of England.
---
If you are actually looking for Driver CPC training check out another of our new sites visiting North Easter Driver CPC training. And soon we will be rolling out our Driver CPC courses out across the UK!
---
Past Project: 2010 We have been working with the UK's biggest window lock manufaturer for a couple of years now Winlock Security Ltd down in Telford, Shropshire. But it is only recently that they have asked us to make them No 1 on Google for 'Buy Window Locks Online' ! Also the request has come through from Winlock to concentrate on 'Garage Door Locks'.

---
Past Project: Christmas 2010 - Sunderland Beer Company Boost!

We reveal how we helped Harry Smith at SBC boost his sales over the busy Christmas / New Year period like a little rocket flying high in the sky like a little rocket! click
More of our past projects: Click here ....

On of the main benefits in dealing with NRG Digital is that you can choose from one of our easy 'Pay As You Go' packages ranging from £10 per month * for our Bronze package, £25.00 per month * for the Silver package, £50.00 per month * for the Gold, right up to our top of the range Platinum package at £100 per month * (all plus VAT)
Last Updated: 11-12-13